Access Database Recovery...Cost-effectively Recover Access Database
you can find perhaps the best MS Access database recovery tool that too at a low price. You don't have to crunch you pocket much to get Access Recovery software.
About Microsoft Access: Microsoft Access is an extensively used database application. It is a relational database management system that consists of several software development tools and an easy user interface. This has made it one of the most preferred database applications. MS Access stores database parts like tables, queries, relationships etc. The information is saved in .mdb files.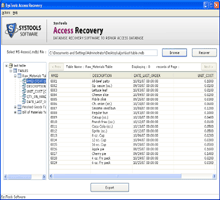 Why MDB files of Access Database Get Corrupted? There can be many possible causes for Access database corruption. Some of these possible reasons are:
Abrupt system shut down
Software or hardware failure
Defects or problems in hard drive or disk controllers
Disk space unavailable while Access database is working
Accessing or copying any MDB file while database is running
Virus attack on the system or Trojan infection affecting MDB files

There are many software tools available for Access Database Repair but not all provide satisfactory results. Many of these tools are non-performing. Even if you find some well-performing tools; you might turn away after seeing their prices. One of the greatest solutions is Access Recovery software which is not only well- performing but also low priced option to recover Access database
FREE Access Database Recovery Tool - Download Free Demo Version
You can get this FREE Access database recovery software Demo version by downloading it online. You can easily get this FREE Access database recovery tool Demo in just a few mouse clicks and the software will be in front of your eyes.
Using the Free Demo version, you can repair corrupt MDB files of MS Access databases and can also see the preview of the recovered items BUT you cannot save the recovered data to your system using this Demo. This facility is provided acquaint you with the software before purchase and to let you evaluate the efficiency of the tool and then decide for its purchase.
How to Recover Access Database Contents Cost-Effectively? One viable solution to recover data from Access database cost-effectively is by buying an efficient but low priced software tool. Our this Access Recovery tool is one such software which does not come for a hefty price. The price of this Access DB recovery tool is starting at $99 (Personal License).  
Beneficial Benefits at a Glance: Access Recovery software is
Easy to use
Quick to use
Efficient to use
Safe to use
Cost-effective to use
Some Helpful Features of This MS Access Database Recovery Software
Access database recovery tool has numerous handy features for recovering Access database items. Some of them are as follows:
Repairs MDB files of corrupted or damaged Access database and can recover MS Access database contents completely. 
Repairs MDB files that are password protected.
Shows the preview of recovered data before saving.
Restores tables and can recover Access table data in the same form as present in the original corrupted files before recovery.
Recovers primary keys and unique keys along with relationships.
Supports almost all Windows versions (98, ME, NT, XP, 2000, 2003).
Repairs MDE files also. (Note: For repairing these files, you must import them explicitly)
Full Version (Recover MDB File Data & Save the Recovered Contents)
Full version licenses of Access Recovery tool are not costly. You can get the Personal License for ONLY $99 and the Business License for just $189. With the help of this Full versions software, you can completely repair MDB files and perform full Access database recovery. With the Full version, you can SAVE the recovered items to your system unlike the Demo.